One of my biggest pet peeves when I was a kid was how my mom would often say, "I could make that."
Example: Me: Look at that cool shirt/blanket/furniture/anything.
My mom: I could make that.
This drove me batty. If we're being honest she rarely ever made it, but the thing is, it stuck in my head. She was right, oft times things that you could end up spending a lot of money on are things you could make yourself. Sometimes I hear myself not really saying it, but thinking it. Some day we all turn into our mothers.
So here's some stuff I made lately. Forgive the horrible pictures, my camera apparently has forgotten how to focus photos. If I take 5 pictures of the same thing, one might be in focus. So just saying sorry in advance. Time for a new camera, since mine apparently is going through alzheimer's.
These are some jeans I never wear because they are "too flared." I am not a skinny jeans only girl, but if the flare of the leg touches while I walk it bugs me. I am not trying to make a tutorial on how to do this and I cannot find the one I used,
but here's another.
Basically I put them on inside out, pinned them the way I wanted them to fit, took them off, drew a line with a sharpie of where my new seam would go and sewed along the line.
PS: I do not have a fan and a hammer in the floor in my bedroom this is one of our spare rooms which I have taken over as a sort of craft room.
Here's the final product: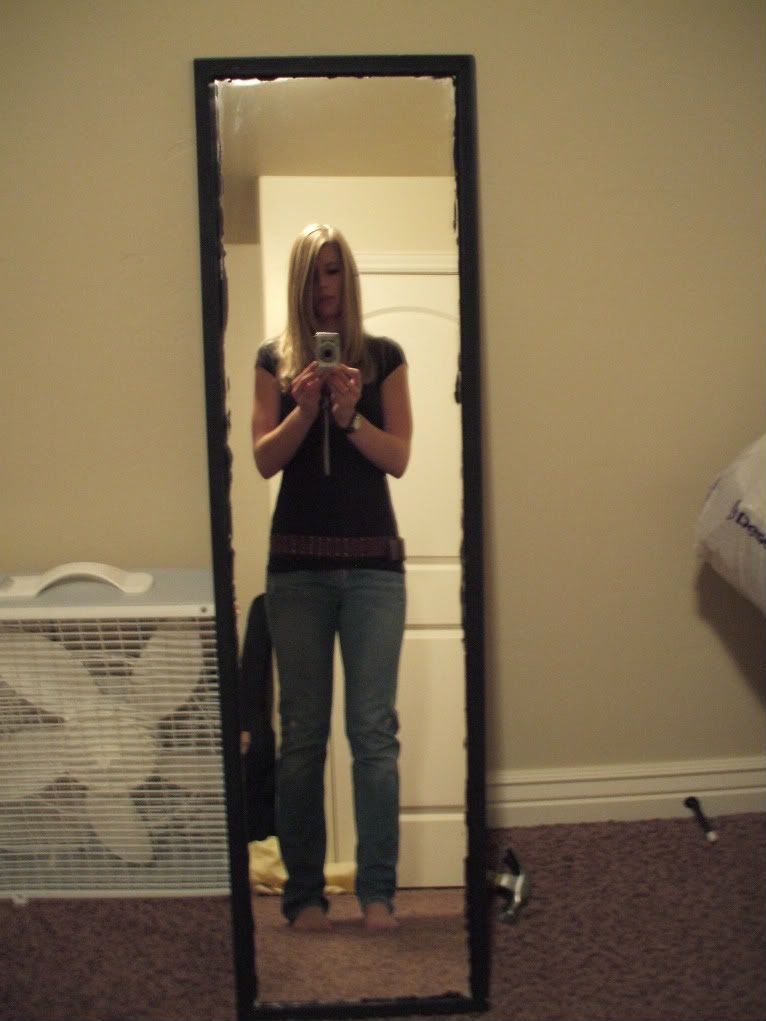 Hey, look that one was actually in focus.

I also got this sign at the DI for $1.50
Sorry if you are a fan of the original, but I painted the red edges black,
took off the decal and slapped a new one on.

My friend's sister-in-law owns the company and they had an amazing clearance sale the other day.
Do you ever catch yourself doing something (mimicking a parent) that you swore you would never do?